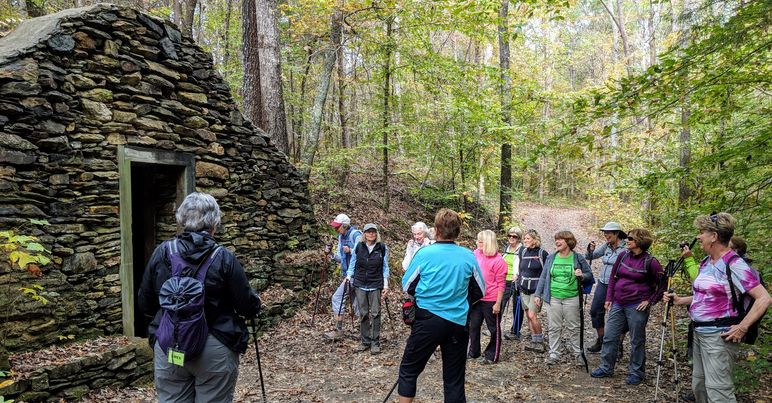 The Rail Trail History Hike celebrates the 2023 North Carolina "YEAR of the TRAIL". We will celebrate our trails with multiple events throughout the year.
Facebook Event Page for the April 15th Gold Hill Rail Trail History Hike
YEAR of the TRAIL
Each Spring and Fall we offer a hike on the Gold Hill Rail Trail giving visitors an opportunity to hear history of the historic sites and landmarks as the trail passes through Gold Hill Mines Historic Park.
Sites along the trail include the Powder House, a 19th century dynamite and black powder storage bunker, the old stone jail, the Randolph Mine Shaft, the Barnhardt, Miller and Johnson Mine Shafts along with numerous other historic sites and artifacts.. We meet at E.H. Montgomery General Store at 9:00 a.m. for Check-in and Registration.
The Hike begins at 10:00a.m.
The next scheduled History Hike will be on Saturday April 15, 2023.
Historic Gold Hill North Carolina is a destination on the North Carolina Gold Trail.
The Gold Hill Rail Trail is also part of the Carolina Thread Trail and North Carolina Rail Trails.