North Carolina Gold Trail
Gold Hill, NC is proud to be a vital partner in the development of the North Carolina Gold Trail.
The North Carolina Gold Trail is a heritage destination trail that spans across the state whose purpose is to educate visitors about the NC Gold Rush and the significance it played in the history of the U.S.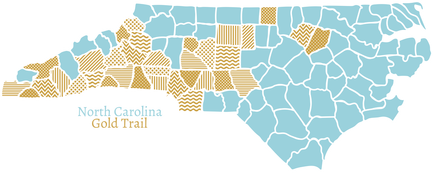 During the NC Gold Rush, Rowan County was located in the heart of the Carolina Gold Rush Territory. It's most famous town during those days was Gold Hill. Today Rowan County is more commonly associated with the town of Salisbury, which is known for delivering an "Authentic North Carolina Experience".