Gold Hill Founders Day
Gold Hill Founders Day will be held on Saturday September 24, 2022
Vendor Applications are available. See below for the PDF Download
Join us for a great Festival of arts and music, celebrating the history and culture of the once famous gold mining boom town. Gold Hill will open it's doors to fall visitors on Saturday September 24, 2022.
Artisans, vendors and food trucks will offer much to choose from! The festival is fun for the whole family including, History Hayrides, Self-guided Tours, Arts & Crafts, Music and More.
The day kicks off at 9:00a.m. and the Founders Day Parade begins at at 10:00a.m. The day continues with heritage exhibit demonstrations of Hit & Miss Engines, gold panning, hand wood carving and more.

Music throughout the day at the amphitheater is hosted by the North Carolina Bluegrass Association. The food circle will offer a variety of foods including barbecue by the historic foundation, hot dogs, hamburgers and more.
You can take a break from the festival activities and visit the restored gold mining town located adjacent to the park. There are a dozen shops and a restaurant with plenty of outdoor seating to take the load off of your feet.
Pop in at the E.H. Montgomery General Store to pick up a long-neck bottle soda, coffee and pastry or hand-dipped ice cream, served in cones cups and waffle bowls. You can also purchase Ghost books and information on Gold Hill History.
Montgomery General Store also has Gold Hill Maps and Brochures. Be sure to pick up the hiking map for the Gold Hill Rail Trail. Take time to check out the hiking trails in Gold Hill Mines Historic Park while you're visiting!!
Check out more about Gold Hill Mines Historic Park at this link. Check out more about the Historic Village of Gold Hill here.
Gold Hill Founders Day is hosted by the Historic Gold Hill and Mines Foundation, Inc. All proceeds benefit the restoration and maintenance of Gold Hill Mines Historic Park.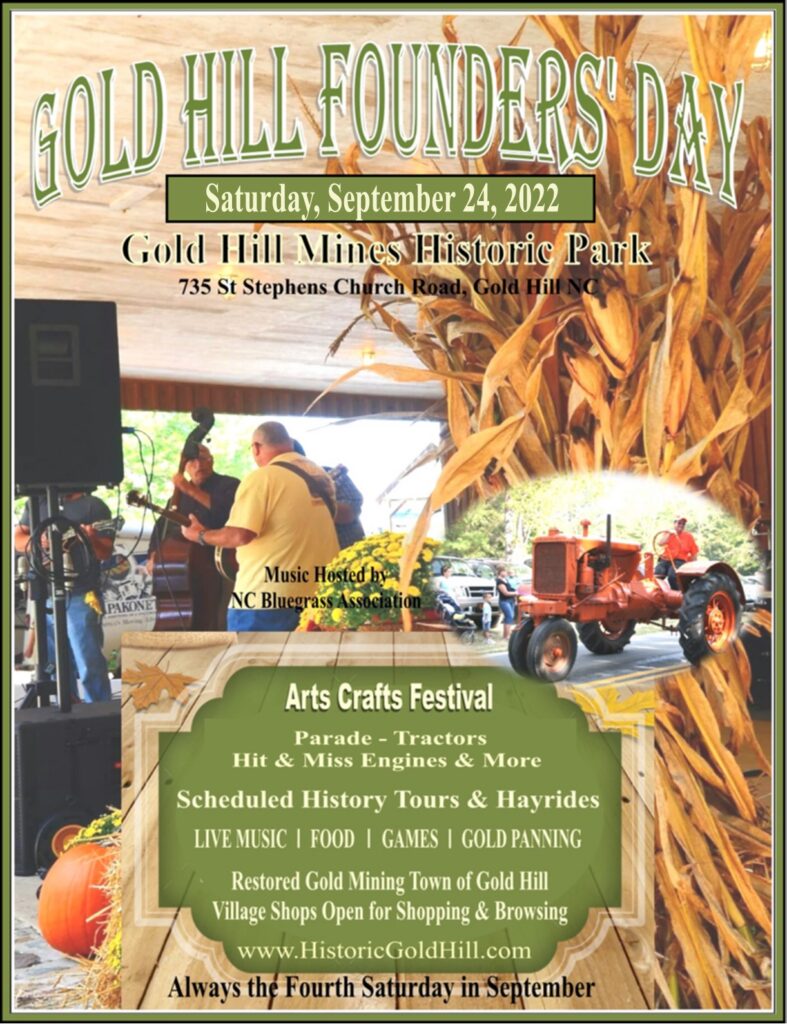 Check back often for 2022 details!! For questions or more info: 704.267.9439
Music Food & More
Over 65 Arts/Crafts Vendors – 11 Food Vendors in the park, Gold Hill United Methodist Church will have a food booth at the Church, plus Mama T's Restaurant in the Village will be open for lunch and dinner. All the shops in the Village will be open for shopping and browsing. Music will fill the park from the Amphitheater with a variety of bands offering a mix of Bluegrass and Bluegrass Gospel Music from 11:00 a.m. to 5:00 p.m.. Download and Print the Vendor Application below for Arts/Crafts Space.
This is NOT a FOOD COURT APPLICATION. Food Sales are NOT permitted in the Craft Booths.